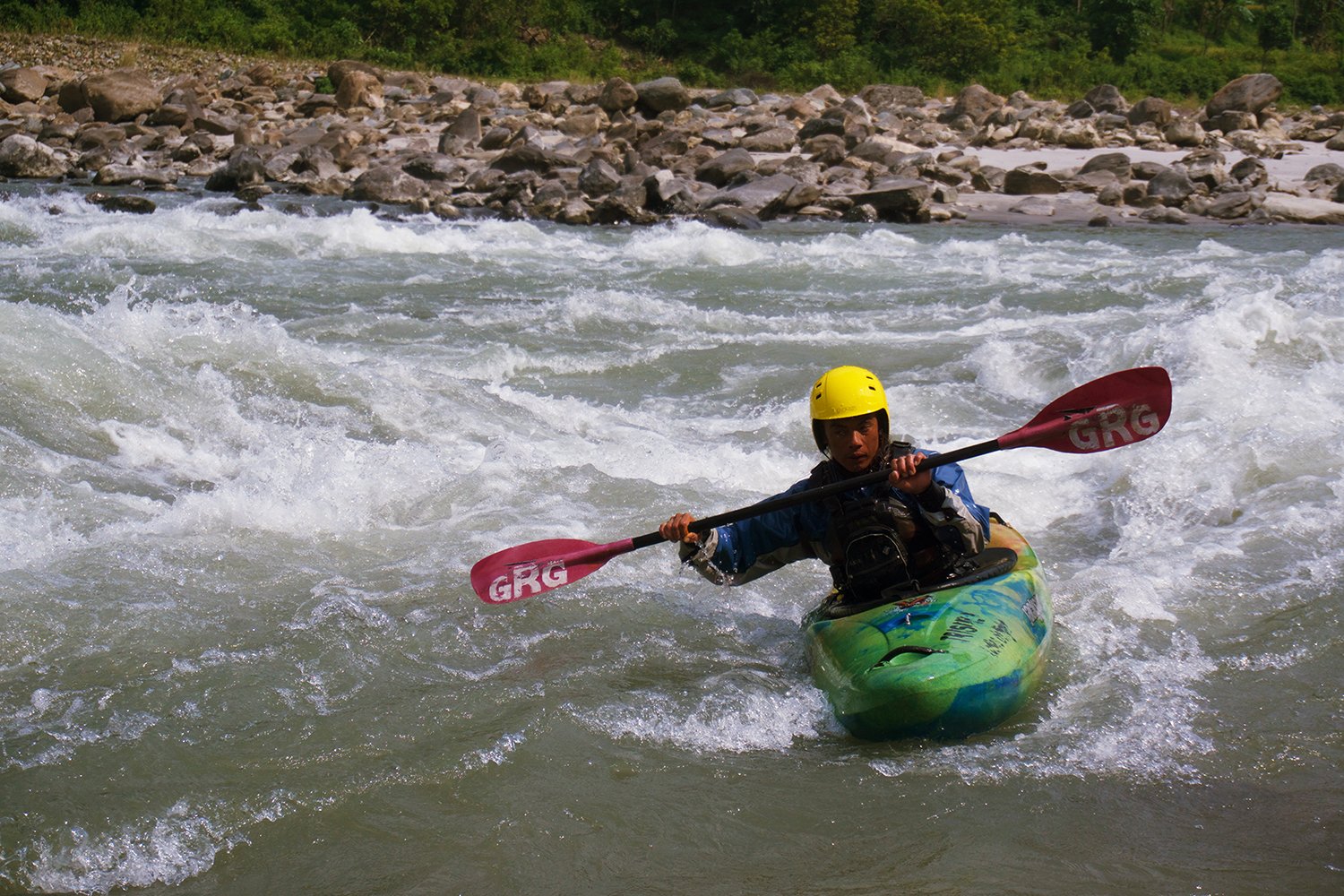 Learn to Kayak on the Sun Kosi
This trip is perfect for those who have a little bit more time and really want to get to grips with the basics white water kayaking. Our two week itinerary will leave you a whitewater pro and a new hobby for life!
Whether you are a total beginner or someone looking for bit more tuition to brush up on your kayaking skills, this trip covers it all. We will start this trip the same as our 4 days course on the Trisuli River where we will be based on our river side camp. Here (depending on your level of course) we will go over everything you need to know for the days ahead, rolling, bracing, crossing the river, edd-ing in and out, and choosing lines. 
After a few days here we will then transfer back to Kathmandu for one night (make sure you grab a shower as it will be your last for a while!) before we head out on our favourite river trip in Nepal…the Sun Kosi! We will follow the itinerary of our standard Sun Kosi trip, but with an extra guide just for you. This river is actually the perfect place to learn on as it starts of very gently, letting you find your groove in your kayak before we hit the bigger rapids. By the time we reach these, you should have grasped the basics, but if it gets a bit too much we are fully raft supported, so for that odd rapid that is a little bit out of your ability (namely Hakapur the biggest rapid of the river!) you can enjoy it from the safety of the raft before jumping back into your kayak, perfect!
This river will test your newly found skills and you will learn so much, and did we mention the warm water!! Much better than learning in England where you will most likely freeze!!
View our detailed itinerary below.
GRG Office, Thamel, Kathmandu at 9am on fixed departures
From: Dolalghat.
To: Chatra. Optional flight back from Biratnagar or 15 hour overnight bus journey
Volume in November : 400cms (1400 cfs)
Sept-Nov or end of April – June
DAY 1-4
Trisuli: We will follow the same itinerary from our four day course… At the end of day four, we will transfer back to Kathmandu for one night in the city for our last hot shower for 8 days!.
DAY 5-13
Sun Kosi: This is what we've all been waiting for!!! The Sun Kosi, rated as one of the top river journeys in the world by National Geographic and Lonely Planet, and we couldn't agree more!! The first three days start off very gently, mostly just Grade II rapids. Which will give you more time to master your skills and grow your confidence. Once we get to day 5, the rapids step up a notch, so your guide might request that you do a few hours in the raft to keep you safe before you return to your kayak (of course this depends on how much you have picked up along the way we have had beginner kayakers who have ended up paddling the WHOLE river except Hakapur rapid!). Challenge on!!
After two days of larger rapids, they die down again a little giving you a chance to practice crossing rivers, rolling, bracing and all the skills you have learnt in the last two weeks. We'll spend the days practicing kayaking and the evenings enjoying a chilled beer and campfire….can you think of anything better to do?!
At the end of day 12 we will take out from the river and head on over to our local hotel in Chatra for one last Dal Bhat. Here you have the option of a quick flight back to Kathmandu or the overnight bus which will get you in early on the 13th morning.
If after this you can't wait to get back into your kayak, ask us for other options!!
Find out more about the Sun Kosi river.
All staff, including highly qualified & licensed Guides and professional Safety Kayakers all fluent in English and holding up to date First Aid Qualifications.
All camping equipment including toilet tents, shelters, matresses, sleeping bags, tarps, personal tents etc. No additional charge for sleeping bag hire.
All meals and water whilst on the river. Tea, coffee, hot chocolate and juice will also be provided. Read our FAQ to see what tasty treats we will serve you.
Transportation to and from the river by bus.
All equipment, including PFD's, helmets, dry tops, throw bags, dry bags, pelican boxes, wetsuits, paddles, etc all at international standards and regularly checked.
If you are kayaking with us, kayak hire is also included in the cost. See which kayaks we have here.
Porters.
River permits.
Gear Raft support.
Extensive medical kit.
Trip photos *make sure you bring a USB stick along with you.
Unrelated travel, visas, insurance, travel documents etc… Items of a personal nature (toiletries, personal medication, clothing, camers…)
Personal insurance.
Alcohol and additional snacks.
Travel insurance. To travel with GRG's you are required to have adequate insurance for the activity you are participating in, we have the necessary insurance for our crew but you must have your own seperate policy)
Optional tips for guides.
"The kayak trip down the Sun Kosi was a trip of a lifetime. The river has a magical quality to it sparkling gold. The GRG team's organisation was perfect, with excellent kayakers leading and for safety, and raft support for kit. Camping on the golden beaches was very special, and the food supplied and prepared by the GRG lads was unbelievable! Even the shuttle by bus to the river was exciting! The GRG team were always there to fish us out if we finished up swimming, or to take us down rapids on the raft if we did not fancy kayaking them - totally safe with a large edge of excitement ... I want to do it again!!!"